SG Sam di Casa Massarelli




IGP1, BH-VT, HD / ED Normal




DM Clear




DOB: 7/27/2018





A top son of ;




VA Spencer di casa Massarelli




11 VA Dogs in his 1st 4 Generations





Sam will be available as a stud to select females.
Max vom Windläufer



DOB; 7-28-20

Hips and Elbows prelmed good waiting for OFA.
DM-Clear
Max is the Son of our Ramses which was the grandson of;
Multiple VA/Universal Sieger; Triumph's Gucci and
VA1 Yello vom St Michaels Berg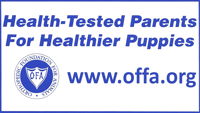 RETIRED
​
D.O.B. 05/23/2009
OFA-HD/ED Good/Normal
​
Sire: V Eon von Nimbus-SchH3
Dam: V Yana vom haus Tepferd-SchH2
G Sire:: VA Hill vom Farbenspiel
(2x Huppy vom Arlett, VA Emor vom
Schimmelberg)
Don has wonderful drive, temperament and pigment and tends to pass this on to his progeny along with his beautiful structure and movement.
Don has a happy go lucky attitude unless called upon to be different.
We do have updated photos of our guys if you would like to see what they are like now.
​
All of our guys are still full of vim and vigor !
​
Don, 11 1/2, has not lost his vigor for life and is still producing beautiful litters. He also runs and plays like he did as a very young man. Still loves to carry his "wubba".
​
​
CH Ramses vom Windlaufer
DOB: 9/18/2011
DM Clear / DNA Certified
OFA Good Hips / Elbows
Ramses is a beautiful black and red male out of our Ariana and Quando. He is the Grandson of 7x VA1~Universal Sieger Triumph's Gucci and G-grandson to World Sieger VA1 Ursus von Batu. Ursus was the greatest producing dog in the history of the breed. He was responsible for producing more World Siegers than any other dog. Ramses is also the Grandson of 2x VA1 Yello vom St.-Michaels-Berg.
He could not have come from any finer or more desirable lineage than these dogs.
Ramses is big boned, deep pigment with medium drive and temperament.
His correct movement floats along the ground, it is beautiful to watch.
​
Ramses is only 8 and still his gait amazes us. Beautiful strides, he looks like he glides across the field. His off spring are gorgeous with outstanding temperament!
Rest in Peace our big man.
DOB: 8/24/2009
HD/ED Normal (a1) Germany
DM: 1 Mutation
​
Sire: VA1 X Box Dei Precision
2 x NASS Sieger
Dam: V Accie vom Clearcreek Bauernhof
Nik is a very athletic boy, loves, loves going after the water and has energy to burn yet quiet in the house. Nik has made a wonderful addition to our home and the girls really like him. Nik is a great German Shepherd dog producer giving his offspring his wonderful head, pigment and temperament.
Nik has 14 VA dogs in his first 4 generations!
​
Nik, though turning 11 this year still chases his tail and thinks he is still a puppy.
Studs We Have Used From Other Kennels
Tuareg is large, medium strong, excellent type and expression, very good pigment, very good proportions, expressive head length with a great dark mask. High withers, firm back, good croup situation, very good angulation of front and rear, balanced harmonious breast developement. Especially the front, accurate and far reaching from the front and rear view, powerful ground covering gait, effective supply and free precedence, safe nature and UCB pronouncedly.
SchH 3, Kkl a1
Ilay is a beautiful, big strong male with awesome head
and pigment, his temperament is to die for. Ilay is a strong male
with great working ability and passes this on to his progeny. Ilay is now 11 1/2 years young (2015) !
SchH 3, Kkl a1
We had the great pleasure and honor of knowing and loving Gucci for several years before he passed on. I have never known of a dog with Gucci's talent. He was every bit the "working dog" in a show line body. His last great achievement in my mind was when he made VA7 at 9 1/2 years old! Gucci has passed on but his memory and lineage still lives on in our hearts and the lineage of our dogs.