BH, IGP1, Kkl
HD/ED A/0
DNA Certified
​
Borgia is a European import out of Budapest.
She has a super temperament, very nice old German build with the beautiful mahogany red/black long coat.
Kind and patient. We are looking forward to her first litter with us this year.
​
10 VA dogs in her 1st 4 generations!
Grandsire- VA Leo von der Zenteiche
Grandsire- VA Yoker vom Pendler
​
Kristal Good Team Loznica
DOB: 5/24/2018
HD/ a E/ 0 (Excellent)
DNA Certified
​
Sire: Poncho Good Team Loznica IPO1 BH
Dam: Dora Good Team Loznica
​
Kristal is a European import. She is a lovely well tempered, very loving, tall, coated (long stock coat) female. She has made an excellent addition to the Windläufer kennel but now lives
​
She has 5 VA dogs in her first 4 generations.
​
"Tosca"
Ulma Team Vardar & Jovanely
DOB: 8/15/2019
IGP1, BH
DNA Certified, HD/ED B/Normal
DM - Clear
​
Daughter of :
VA Henko vom Holtkamper Hof
Granddaughter of:
VA Groovy di Casa Massarelli
​
Tosca is a European import from Macedonia with 8 VA dogs in her first 3 generations.
​
Beautiful in temperament and movement. She is a kind
soul with a nice protective side when needed.
Excellent mother.
​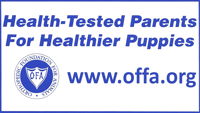 For Sale and Retired Girls
No adults for sale at this time
INTNL CH, Show CH, Best of Breed
​
SV HD/ED a Normal/ Normal
DNA
DM Clear
Grandfather: VA Quenn vom Loher Weg
Grandmother: 2x VA Toska z Lintichu
Although we purchased Hindy as an adult, she has permanently bonded with our family.
She is a large female, beautiful pigment that cannot be adequately seen on screen. She is a rich mahogany red and black. A dominate female but a wonderful mother though she will take no guff from an unruly pup. lol
Loyal once bonded, she can be a very loving girl. Watchful, always on alert and never lets you sneak up behind her.
SchH3, Kkl 1a (Excellent/ Normal)
2011 Mid-Central Regional Siegerin
RETIRED
Honda is a beautiful mahogany and black female. Her picture does not show all of her exquisite traits. Her movement is very powerful and fluid and her temperament is rock solid. She is a multiple V-1 rated girl.
SchH 1 Kkl a1 - DNA Cert.
Daughter of VA1 Karat's Yoker and Granddaughter of World Sieger VA1 Ursus von Batu and VA1 Cento vom Monopteros.
Azza is a big boned beautiful black and red female with outstanding conformation and temperament both of which she passes on to her progeny. Azza has produced 2 VA daughters and multiple V's.
We have showed her here in the states where she has won BIS, PCH, CH in regional shows. She loves the ring. Co-owned with Jan Jesky
2x CH, PCH Jasmine von BellePlaine
OFA: Good / Normal - DNA Cert. RETIRED
Jasmine is of West German showline lineage and proves it in the American show ring! Black and red, good pigment, sweet tempered though protective. Her gait in the ring has won her the PCH (Prominent Champion) as well as being selected to go to the "Go for the Gold" championshiip which she took 3rd highest ranking amoung all breeds! Jaz passes her big bone and large head on to her progeny as well as that beautiful gait. Co-owned with Janet Jesky